We're running a weekend trip to Provence later this month to take on the 'Geant' – Ventoux –  not just once but twice no less. We've only got 2 places left on the tour so be quick if you're interested. All details can be found below.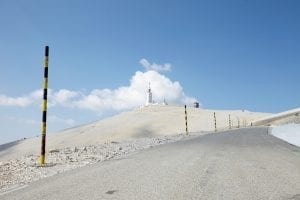 Why Ventoux?
         Easily accessible – Marseilles airport is 1hr from Avignon and 1hr 20 from Ventoux.
        Affordable flights and convenient flight times – from Heathrow BA flights were coming in at less than £180 RTN  (as of 27th February 2013).
       Ventoux – need I say more ….The Giant of Provence. One of the great meccas of cycling and you get to do it twice
       Awesome riding in the area around Ventoux. The Gorges de la Nesque is one of best rides I've   ever done.
       Not just Ventoux – there is riding to suit all tastes
       Provencal microclimate – can't promise nice weather but Provence is renowned for having warmer weather than the surrounding regions. Disclaimer – the Mistral!
Bikes – our bike hire guy is based about 20 minutes from Ventoux. Here are the bikes if you need to rent one – http://www.rideandseek.com/information/bikes.
       Fantastic food and wine – http://www.rideandseek.com/classic/provence
The Riding
Day 1- Fri 19th Mazan to Gordes return (60km)
Our ride today is a bit of a warm up for the days ahead. After settling into our hotel we head out in the afternoon on a loop ride that takes us south of Ventoux to the beautiful hill town of Gordes. We ride through the striking landscape of the Luberon national park and head back to Mazan via the village of Fontaine de Vaucluse that was once home to Petrach. Light permitting if you're keen to ride more at the end of the ride there is great riding all around Mazan.

Day 2 -Sat 20th Ventoux (ascend from Bedoin, descend into Maulacene) & rtn via Gigondas (101km)
We take on the Giant of Provence today – Mt Ventoux – and ascend via the classic route from Bedoin. At 1912m this massif really is one of the iconic cycling experiences that has to be experienced at least once. Its presence in the 100th edition of the Tour de France this year is testament to its place in cycling folklore. After the exertions of the climb we descend via Malaucene and then head out into classic Cote du Rhone country. We ride through Gigondas and close to the village of Beaumes de Venise before looping back to Mazan.

Ventoux – the Bedoin climb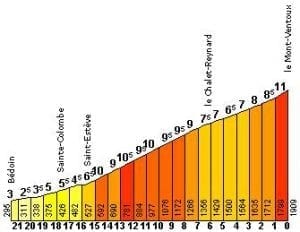 Sun 21st Gorges de la Nesque & Ventoux via Sault (the easier ascent) (95km)
As if climbing Ventoux once wasn't enough of a challenge we're actually going to do it twice! Today though we approach it from Sault, generally considered to be the 'easier' side as it offers a more gradual ascent.  To reach Sault we ride through the Gorges de la Nesque which is a really fun, scenic 19k descent on a twisty, tunnel-laden corniche with a perfect descending grade of 3%. After summiting Ventoux we descend back down to Bedoin which gives you a more pleasant perspective on what you achieved the day before.  A perfect end to a great cycling weekend in Provence.

Note: Every day there is extra riding available for the keen and exit points available for those wanting to get back to the hotel early!
What's included?
Accommodation – Choice of 4 star or 2 star in Mazan (subject to availability) – I've stayed in both and they are great and are 200 metres apart. NB don't put too much emphasis on the * classification in France. The nicest chateau I ever stayed in was a 2* chateau and it was in the best hotels in the world book! Price is inclusive of breakfast. Cost of trip will obviously reflect where people stay. If someone chooses to stay in the 2* place they will save @£80
2 Dinners – Here's an idea of what to expect  http://www.rideandseek.com/classic/provence
Shuttles to and from airport
Expert Guide support
Garmin navigation (we'll supply Garmin 800's and maps)
What's not included?
Bike Hire – £35 per day. The bike is the 2013 Specialized Roubaix with Ultegra running gear. See it here – http://www.rideandseek.com/information/bikes
     lLunches
Any other extras
Flights –   Since the price is likely to change I have kept this out of the package cost but obviously the sooner it is booked the better. It's important we get everyone arriving and departing together for the sake of a shuttle. Good train options available from airport to Avignon though if people struggle to get there on this flight. Shuttle can then be arranged from Avignon.
Recommended flight –
BA London Heathrow to Marseilles RTN
Outbound  – dep Fri 19th April 0740 arr 1035
Inbound – dep Sun 21st April  2100 arr 2155
Cost presently around £180
How to sign up?
To sign up send an email – [email protected]  – expressing your interest in the tour.
Once it has been confirmed that we have space on the tour and you have specified your accommodation preference and bike requirements we will send you an updated quote.
Tour cost – £450 
Check this out if you're after inspiration – http://vimeo.com/40707915. It's a video of Sam and I climbing and descending Ventoux last year.