Puglia Bike Tour Overview
When we decided that we wanted to run a 'relaxing' bike tour in Italy we only really had one destination in mind – Puglia. Situated in the far south of the Italian peninsular the region has all the ingredients you could ever wish for when designing a tour.
With a tangled history of colonisation that has left its mark with an eclectic mix of cultures, architecture and gastronomy the challenge with designing this tour is what elements to include. Such is the richness of 'highlights' in the region you are truly spoilt for choice.
Situated between the azure waters of the Adriatic and the lush greenness of Basilicata, Puglia offers a landscape of beguiling views, ancient olive groves and a seeming overabundance of UNESCO sites to visit.
Our tour takes in two of these UNESCO sites – Alberobello and Matera. The former is the home to the enchanting conical houses known as trulli whilst the latter is known for its cave dwellings built into the calcareous rock. Both places have to be seen to be believed.
In addition to the UNESCO highlights the charm of Puglia lays with the people themselves whose hospitality is renowned throughout Italy. This is married with a truly unique gastronomy that is rightfully revered.
Come and ride the road less travelled in Puglia on a tour that allows all abilities to be entertained. The 'regular' ride will average 40km and with the absence of any great undulations on the route we are confident of accommodating all abilities. The daily extra loops will keep any riders looking for more miles happy too.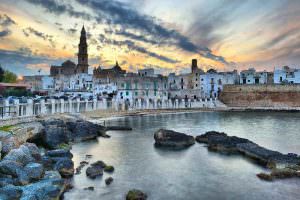 Puglia Bike Tour Highlights
>  Spend the night in the 'Sassi' of Matera that are classified by UNESCO and known as the 'Subterranean City'
>  Sample some of Italy's finest red wines and familiarise yourself with the grape varieties Primitivo, Negroamaro and Bombino Nero
>  Visit the ancient town of Egnazio and view the stunning mosaic of the Three Graces in its archeological museum
>  Watch how they make Mozarella the traditional way – a tasting is obligatory
>  Learn about the conical trulli on a walking tour of Alberobello – another UNESCO site
>  Ride through ancient olive groves on the road less travelled
> Taste the wonderful home made pasta dishes and organic fare for which the region is renowned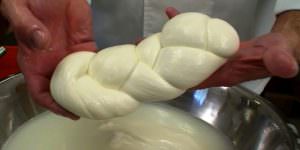 Puglia Bike Tour Dates & Prices 2018
| Tour | Start Date | End Date | Days | Cost (Euros) |
| --- | --- | --- | --- | --- |
| Puglia – The Best of Southern Italy  | 15th October | 22nd October | 8 days (7 nights) | €3,480 |
Supplements
> Single supplement – Our prices are based on twin/double occupancy. If you wish to have your own room then a supplement per night is applicable.
> Bike hire – On this tour bikes are supplied at no extra charge. The 
Our Bikes  page
 shows the options we have available.
> Wine kitty – On all of your tours we run a wine kitty system. This is very much an optional arrangement that ensures non-drinkers can be accommodated. The wine kitty is owned by the group and anything left over is divided up although this rarely happens!
> Deposits – To reserve a place on a stage of this tour you need to pay a deposit of €1000 (or your local currency equivalent). We also accept payment in GB£ and AU$.  The final invoice will include any applicable single supplements or bike hire costs. Normally. unless otherwise requested, we collect the wine kitty monies on the tour itself. 
Contact us
 with your specific requirements and any questions you may have.
Puglia Bike Tour Food & Wine
For thousands of years Puglia has been mainly an agricultural region, producing a large proportion of its wine and around 40% of Italy's olive oil. Enormous tracts of the region's land are given over to farming, be it for livestock or crops, and many Puglisi continue to grow their own produce. The region is, for good reason,famed for its organic produce.
This agricultural focus has meant that the cuisine of Puglia is locally inspired – a bona fide Slow Food destination well before the idea was even conceptualised. Staples of this cuisine are durum wheat, artichokes, fava beans, courgettes, tomatoes, fennel, peppers and onions which are found in abundance.
Linked to the production of durum wheat is the pride they place in the pasta dishes they produce. Of particular note is their orecchiette, little ear-shaped shells that are still freshly produced each day across the region. Interestingly eggs, once considered a luxury, are not used in their traditional pasta-making. Another favourite is maccheroni al forno which has to be tasted to be believed – the mix of meat balls. boiled eggs and pie crust is a heady combination!
On the meat front the rocky interior of the region means that lamb reigns supreme. Any time there is a village feast the fragrances of roasting lamb can be scented wafting through the streets. Pork and horse meat are also traditionally eaten but the latter much less so in recent years.
Linked to the pre-eminence of sheep in the Puglisi diet is the predominance of cheeses of ovine origin. Pecorinos and ricottas are found in abundance across the region and are always of fantastic quality. We must also talk about the existence of the truly indulgent burrata di Andria. When we have our mozzarella demonstration and tasting we'll talk more about how this is made. It truly is a 'bomb'!
We should also talk a little about the importance of fish in the Puglia diet given its long coastline on the Adriatic Sea. The region has a strong fishing tradition and many restaurants base their fare on freshly caught fish. Anchovies, gilt-head bream, sea bass and cuttlefish are particular favourites.
What to say about the wines? The quality of the wine that Puglia produces has come on in leaps and bounds in the last 20 years. Previously known more for its quantity than quality the tide has definitely turned in this regard. It now boasts 25 different DOC areas which is both testament to the scale of the production in the region and the recognition it now holds.
The most widely grown grape variety is Negroamaro which is almost exclusively cultivated in Puglia. It is used to produce some truly fine wines including the famed Salice Salentino. In terms of true renown though the title has to go to Primitivo, whose wines are known for their full bodied characteristics. A perfect accompaniment to a Puglisi lamb feast!
White wines account for less than 20% of the regions production but are slowly growing in importance. Local grapes like  Bianco d'Alessano and Verdeca are blended with international varieties such as Chardonnay and Sauvignon to produce some excellent results.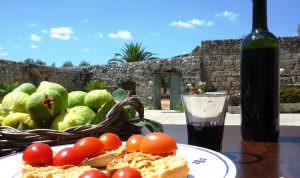 Puglia Bike Tour History
Thanks to Lonely Planet for the concise overview of Puglia's history below –
At times Puglia feels Greek, and certainly its history is partially Greek: the Greeks founded a string of settlements along the Ionian coast in the 8th century BC. Their major city was Taras (Taranto), settled by Spartan exiles who dominated until they were defeated by the Romans in 272 BC. Fewer than 100 years later, in 190 BC, the Romans completed Via Appia, the road from Rome to the south.
The long coastline made the region ripe for conquest. The Normans left their fine Romanesque churches, the Swabians their fortifications, and the Spanish bold baroque buildings. A form of Greek dialect (Griko) is still spoken in some towns southeast of Lecce. No-one, however, knows exactly the origins of the strange 16th-century, conical-roofed stone houses, the trulli, unique to Puglia.
Apart from invaders and pirates, malaria was long the greatest scourge of the south, forcing many towns to build away from the coast and into the hills. It only came under control after WWII.
After Mussolini's seizure of power in 1922 following WWI, the south became the frontline in his 'Battle for Wheat'. This initiative was aimed at making Italy self-sufficient when it came to food, following the sanctions imposed on the country after its conquest of Ethiopia – Puglia is now covered in wheat fields, olive groves and fruit arbours. In recent years immigrants have increasingly supplied much of the agricultural workforce, and there have been scandals about their treatment in the tomato farms around Foggia.
Our tour takes in two outstanding UNESCO sites – Alberobello and Matera. The former is mentioned in the passage above in relation to the conical roofed houses that are known as trulli. Matera has its origins as a prehistoric troglodyte settlement which is now considered to be the first human inhabited dwellings in Italy. The subterranean churches came later during the Middle Ages and serve to remind us of just how rich and varied the history of this region is. This is emphasised by our visit to the archaeological site of Egnazio where we'll see the amazing Three Graces mosaic.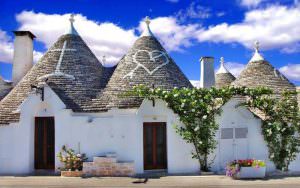 The Stages at-a-glance
Day 1 – Polignano del Mare Warm Up

Distance: 25km
Day 2 – Egnazio Loop

Distance: 38km
With extra loop: 70km
Day 3 – Monopoli to Alberobello

Distance: 35km
With extra loop: 68km
Day 4 – Locorotondo Loop

Distance: 40km
With extra loop 70km
Day 5 – Alberobello to San Basilio

Distance: 38 km
With extra loop: 80km
Day 6 – San Basilio to Matera

Distance: 40 km
With extra loop: 75 km
Day 7 – Matera Loop

Distance: 35 km
With extra loop: 60 km
Day 8 – Arriverderci
.