Historical context
To get a real sense of where you are it is important to understand the history of the places you visit. Historical context is a central component of what we do – be it following in the footsteps of a historical figure or simply soaking up the diverse history to be found on our Local Adventures. On our Epic Adventures the daily route briefings don't just cover the ride ahead but hypothesise what our chosen historical figure was doing at the time too. This is complemented by informal lectures that provide an even more comprehensive overview of the historical context.  Whether history is your thing or not we think that our historical niche is central to giving you a true sense of places you travel through. The guide teams are all well versed on the historical angle of each tour and we also have history experts such as best selling novelist Ben Kane (pictured below) on the guide roster.
Historic fiction author Ben Kane (photo North News and Pictures)
Navigation Technology
All our guests are provided with Garmin 1000 GPS units to assist them with navigating. Our routes are uploaded on to these and they basically tell you more than you'll ever need to know! Most importantly though they tell you when to turn, which ensures that you can actually take in your surroundings without spending the whole time checking a paper map or route notes looking for the next turn. We're not anti 'old school' by any means and indeed we provide a paper map each day which shows the route we will take, daily cue notes and other important information. However, we feel that using the Garmins enables you to take in more of the wonderful scenery we ride through and is technology that serves to enhance the tour experience we offer.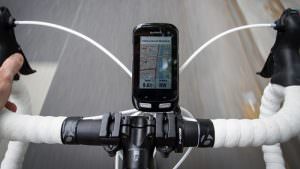 Ride at your own pace
It's your cycling holiday and as such we strongly believe you should be able to ride at your own pace. The conversations we have pre-tour and the espresso grading system help you choose the right tour but on the tour itself we leave you to ride at whatever pace suits you. Whether you have aspirations to join the Tour de France or prefer to stop at every church and sunflower to take photos, we've got you covered. A combination of expert van support, guides that cycle with you, tracking technology and GPS units allow you to look up and smell the flowers and take it all in, without feeling any pressure to keep up with the person in front. Managing the spread of different riding abilities on our tours is something we have become very proficient at, and sets us a apart from the many operators out there that insist you always ride as a group.
Unique accommodation
One of the benefits of keeping the group size small is that it enables us to stay in the smaller, family run establishments that add to the authenticity of the travel experience we hope to provide. We have carefully selected the places we stay in based on their 'personality' and the hospitality of the hosts. Be it Paradors in Spain, Manoirs in France or Agriturismi in Italy, we seek to connect you with the places we travel in, through the accommodations we choose. We go by the mantra of selecting the best available accommodation wherever we stay, but in saying that we also look to avoid the generic luxury chain hotels. Invariably our more eclectic choices, such as a deconsecrated monastery in Tuscany where the English Patient was filmed, or a balsamic vinegar producer in Emilia Romagna are highlights of the trip for many of our guests.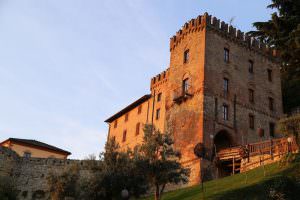 Innovative itineraries

We seek out the road less travelled which is demonstrated in no small part by the itineraries that we put together. Whilst some tour operators have few concerns about cycling the same routes as their competitors and turning up at the same sites as each other we take great pride in offering something a little different. The cookie cutter approach to bike tours is not for us. Epic adventures in the footsteps of historical figures, the first road bike tour to Ha Giang in Vietnam and our French tours that join the dots between the classified 'most beautiful villages', are testament to our attempts to offer something a little different from the norm. This doesn't mean that we avoid the areas that other tour operators frequent –  there is a reason why regions such as Provence and Tuscany are so popular – but rather we look to immerse you in the areas you visit in a manner that hopefully feels unique.
Vietnam Untouched (photo Philip Le Masurier)
Ride and Seek picnics
Our picnics are a great source of pride to us and have become the go to lunch option on the tours. Our resident dietitian Megan has provided us with some clear guidelines on how to prepare tasty and nutritious picnics on tour and our trip specialists always seek out local produce to 'personalise' them to the area in which we are travelling. With the tour vehicles equipped with an industrial fridge and a Thule awning that provides cover, rain or shine, we are able to offer a mobile cafe facility – and yes coffee is also available!

Best bikes in the industry

Our fleet bikes and hire bike options are among the very best in the industry. We have partnered with Lynskey who are considered pioneers in handcrafted Titanium production and provide us with our fantastic Sportive fleet bikes. On the carbon front we offer De Rosa bikes with electronic (di2) shifting and the ever popular Specialized Roubaix. For those looking for a less aggressive cycling option we also offer flat bar titanium bikes as well as Bosch pedal assist bikes that make the hills a little easier!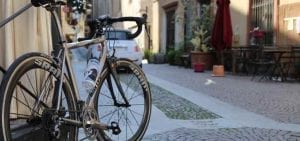 We love food and wine!

What better way to connect to the places we ride through than via the gastronomic treats that they invariably offer. One of the best things about cycling trips is that you know that whatever you eat, you'll burn off the following day. We put a lot of emphasis on the menus we set up and the local wines we choose. With regards the wine there is a wonderful correlation between finest wine growing areas invariably also offering world class cycling too and we take great pride in selecting the wines accordingly. Food wise we think that there is no better way to connect to a place than through the local cuisine so we choose dishes that give more than just a metaphorical taste of the places we visit.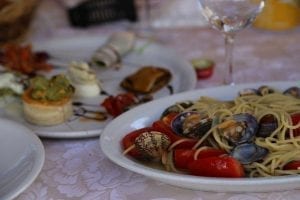 The best guides

We put a lot of emphasis on ensuring that our guides are up to the task of providing safe, informative and fun cycling adventures. We are all serious cyclists but we are also archaeologists, journalists, wine specialists, linguists and historians. We offer a true insight into the areas we guide and travel. By selecting guides who have local knowledge of the places we travel through, as well as varied skill sets, we feel that our guide teams are able to offer a deeper and more rounded experience than many of our competitors.
Click here for the full story on our guides
.