Strzelecki Bike Tour of Australia – Sydney to Hobart
The Strzelecki Tour Overview – Our Epic Australian Cycling Holiday
The Strzelecki Tour includes some of Australia's most iconic climbs and its highest mountain.
In 1839 Explorer Sir Paul Edmund de Strzelecki set off from Sydney on a journey of scientific discovery. We follow his 5-month journey into the Great Dividing Range through the Snowy Mountains to Melbourne. Spend a rest day in the skiing township of Thredbo, NSW, giving you a chance to explore Australia's highest peak. Strzelecki climbed and named Mt Kosciuszko in March 1840.
Stage 2 of this Australian bike tour heads into bushranger county and along the Murray River before turning back into the mountains and summiting Mt Hotham, Australia's highest sealed road at 1,840 metres. If you love cycling in high relief and you're looking for an adventure in the Southern Hemisphere, you might also like to consider our epic Māori Bike Tour of New Zealand.
A beautiful descent through forested wilderness continues over two days to the coast from where Strzelecki's expedition took a turn for the worse and he was forced to leave his horses and mineral samples behind. Strzelecki would have likely died of starvation had it not been for the knowledge and hunting skills of his two Aboriginal guides as they made a 3-week long dash to Melbourne.
With much of the dense forest which caused Strzelecki's expedition so much trouble now open farmland, we instead skirt the mountains and ride through the fern-filled Yarra Ranges before entering Australia's most cycle-friendly city: Melbourne.
Stage 3 of this Australian cycling tour starts with an overnight ferry journey from Melbourne, VIC, to the port town of Devonport in Tasmania. Strzelecki spent 2 years exploring almost every part of the island and our route heads to what he considered (and thankfully still is) the wildest and most beautiful parts of this southern gem — known internationally as offering some of the most scenic cycling in the world. After exploring the mountainous heights and the rainforest lined west coast of Tasmania, the cycling tour finishes in Hobart, Australia's second-oldest capital and its historical charms are still evident to this day.
Watch our Cycling Tours in Australia page for more experiences in the future. We also encourage you to contact us if you have any questions. Click the tabs along the top of the page to discover more about this incredible Australian cycling tour.
Team Members on this Tour
Strzelecki Bike Tour Highlights
> Cycle the length of the Great Dividing Range from the Pacific Ocean to the Southern Ocean
> Test yourself over Australia's most iconic climbs
>Experience and learn from the many World and Heritage listed places we cycle through and visit
>Ride through the Capital to Parliament House
> Wind through the alpine wilderness within the Snowy Mountains
> Cycle over Australia's highest road
> Climb Mt Kosciuszko and enjoy the 360-degree views on top of Australia
> Explore the small country towns and meet some of the local characters
> Experience a landscape rich in iconic Australian history: 60,000 years off indigenous occupation, convict settlement, early explorers, frontier wars, gold rushes, Ned Kelly and the bushrangers and stockmen like the Man from Snowy River
> Beautiful environments; coastal forests, rolling farmland, the vistas of the high-country, the Red Gums that line Australia's longest river, the views that accompany the alps and Australia's tallest trees standing amongst fern-filled forests
>Delicious local produce and wine from the vines that parallel our route
>See Australia's wildlife, its vibrant birdlife, the kangaroos that dot the fields in the mornings and the wombats that appear at the day's end
>Beautiful hotels located in stunning locations
Strzelecki Tour Dates 2023
| Stage | Start Date | End Date | Days | Distance | Cost (AU$) |
| --- | --- | --- | --- | --- | --- |
| Stage 1 – Sydney to Albury | 25th Feb | 7th March | 11 (10 nights) | 845 km / 525 miles | $ 6,980 |
| Stage 2 – Albury-Wodonga to Melbourne | 6th March | 14th March | 9 (8 nights) | 725 km / 450 miles |  $ 5,850 |
| Stage 3 – Melbourne to Hobart | 14th March | 22nd March | 9 (8 nights) | 547 km / 340 miles | $ 5,850 |
| Epic Strzelecki – Sydney to Hobart | 25th Feb | 22nd March | 26 (25 nights) | 2117 km / 1315 miles | $ 16,450 |
Strzelecki Tour Dates 2025
| Stage | Start Date | End Date | Days | Distance | Cost (AU$) |
| --- | --- | --- | --- | --- | --- |
| Stage 1 – Sydney to Albury | 14th Feb | 25th Feb | 12 (11 nights) | 845 km / 525 miles | $ 7,620 |
| Stage 2 – Albury-Wodonga to Melbourne | 24th Feb | 4th March | 9 (8 nights) | 725 km / 450 miles |  $ 5,850 |
| Stage 3 – Melbourne to Hobart | 4th March | 12th March | 9 (8 nights) | 547 km / 340 miles | $ 5,850 |
| Epic Strzelecki – Sydney to Hobart | 14th Feb | 12th March | 27 (26 nights) | 2117 km / 1315 miles | $ 17,200 |
All tours and individual stages are available as a custom tour for your group – contact us for details.
What's Included?
Accommodation in our carefully selected hotels
Meals – hotel breakfasts, snacks en route and pre/post-ride nutrition, lunches including the famed Ride and Seek picnics, multi course group dinners with a focus on the local cuisine.*NB we include occasional independent lunches & dinners to break up the week
Ride and Seek jersey
Garmin 1030 use with all routes preloaded
Ride and Seek water bottle
Kit laundry service once a week
Passionate, experienced and knowledgeable guides always on hand to help
Not Included
Alcoholic beverages
Bike hire
Pre & post tour accommodation
Supplements
Single supplement – Our prices are based on twin/double occupancy. If you wish to have your own room then a supplement is applicable.
Deposit
To reserve a place on a stage of this tour we ask for a deposit of €1000 (or your local currency equivalent). We also accept payment in GB£ and AU$. The final invoice will include any applicable single supplements and bike hire costs.
Strzelecki Bike Tour Food and Wine
Australia is world-renowned for their modern cuisine; blending its British, European, Asian and Middle Eastern influences with fresh local produce to create dishes uniquely Australian.
As one of the world's largest wine exporters, its history going back 200 years there are many excellent wines to be sampled, many from the regions will be travelling through.
Another highlight is the morning snack break. As the Italian inspired coffee culture has spread far beyond the metropolitan areas and combined with delicious pastries and baked goods it's no wonder Starbucks failed to ever get a foothold on this continent.
Australia does have a few food more obsessions including Pizza, that would make even the citizens of Naples proud.
Nibbles platters that take the best from Europe with their cheeses, cured meats, oils and combining them with some Australian creativity to middle eastern dukkha, falafel bread, eggplant dips and garlicky hummus. The perfect accompaniment to your aperitivo.
Oh, and of course there is beer! In recent years even very good beer.
Strzelecki Bike Tour History
Our Strzelecki Tour takes us across the Great Dividing Range from the Pacific to the Southern Ocean and takes in Australia's most iconic climbs. But who exactly was Strzelecki?
Sir Paul Edmund de Strzelecki, to give him his full title, was a Polish-born explorer, scientist and nobleman. Prior to landing in Australia in 1839, he'd briefly served in the Prussian Army, and was an experienced explorer with several expeditions under his belt. He initially set sail from Liverpool, England to New York in 1834, where he began an epic geological trip in the Americas, which included discovering copper in Canada, and travelling the west coast from Chile to California. He visited Cuba, Tahiti and the South Sea Islands before eventually arriving in Sydney.
With an ambitious dream of conducting a geological survey of Australia, Strzelecki's expeditions would see him cover over 7,000 miles in New South Wales, Victoria and Tasmania. While studying the mineralogy of the country he was the first person to discover gold and silver near Hartley and Wellington, but Governor Gipps, in office at the time, asked him to keep his discovery a secret, to avoid a gold rush and to maintain discipline among the convict population. Strzelecki agreed, and in doing so apparently forfeited his own claim to a fortune.
His expedition led him through the Snowy Mountains, where he climbed the highest peak in Australia, naming it Mount Kosciuszko, after Polish leader Tadeusz Kosciuszko. Kosciuszko was a worthy namesake, considered a national hero not just in his native Poland, but also in Lithuania, Belarus, Ukraine and the USA. He fought on the US side in the American Revolutionary War, and is honoured with statues in several US cities – to fight against the British and then have a mountain named after him in a British Colony is pretty impressive! If Strzelecki had marked his map with the local indigenous name of 'Targangal' however, Australians would have had a far easier time of spelling out their highest mountain for the last 160 years.
Strzelecki then travelled south through the area he named Gippsland, after the Governor. After passing the la Trobe River things took a turn for the worse and the party were forced to abandon the horses and minerals and make a dash for Melbourne. They reached it on the edge of starvation and exhaustion, but thankfully alive, in May 1840.
He was accompanied on his trip by James Macarthur and James Riley, and it was mainly thanks to their Aboriginal guides Charlie Tarra and Jackey that the group survived. Cycling trivia fans might be interested to note that James Riley was the great-grandfather of one of Australia's greatest cyclists, Russell Mockridge. Mockridge won cycling medals around the world, and even beat the pros in Paris in 1952 – a 'humiliation' which caused organisers to ban amateurs for years. He competed in the 1952 Olympics in Helsinki, turned pro the following year, and was one of only 60 riders to finish the 1955 Tour de France, out of a starting line of 150.
Strzelecki then travelled Tasmania (or Van Diemen's Land as it was then known) for two years, discovering coal while he was there, before returning to Australia. He eventually set sail back to England in 1843, managing to squeeze in further expeditions in China, the East Indies and Egypt on his way back. On his return he published his findings to great acclaim from the scientific community. His snappily-titled Physical Description of New South Wales and Van Diemen's Land won him praise from Charles Darwin himself, and was awarded the Gold Medal of the Royal Geographical Society.
He produced the first large geological map of New South Wales and Tasmania, which is still on public display at the Royal Geographical Society in London. He later became a British Citizen, and in 1869 was knighted, receiving the title of Knight Commander of the Order of St Michael and St George (KCMG), an honour specifically for services to the British Commonwealth, most notably his work done as a famine relief agent, which he refused to accept payment for and it has been estimated that the various works in which he was involved in during those horrible famine years saved 200,000 lives.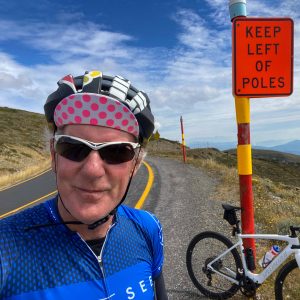 Another great trip with Ride & Seek. 6th overall. Certainly, the hardest to run due to the great difficulties because of COVID-19. In spite of that, it was a fantastic tour. Chapeau to the guides.
Lew T- Strzelecki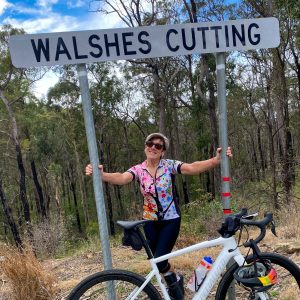 These kinds of rides make you realise what you can ask your body to do. Normally I ride about 40-50km 4 times a week, with a reasonable amount of climbing. 100km a day with 1200m of climbing is tough but manageable – even day after day. Give it a go.
Wendy H – Strzelecki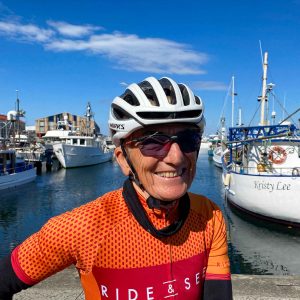 The Strezlecki tour provides a great opportunity to experience some of the best cycling on Australia's East Coast and in Tasmania. Some iconic climbs, beautiful forests, and the opportunity to experience World Heritage areas provided highlights, combined of course with R&S hospitality!
Cathy V- Strzelecki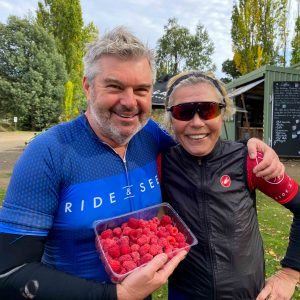 We have ridden with Ride & Seek a number of times and always thoroughly enjoyed everything about their tours. This Aussie Strzelecki tour was the first organised multi-day tour we have done here, and it exceeded our expectations! The riding, the guiding, the accommodation, and food were all top-notch and a great bunch of people to tour through Victoria and Tasmania.
Nick M- Strzelecki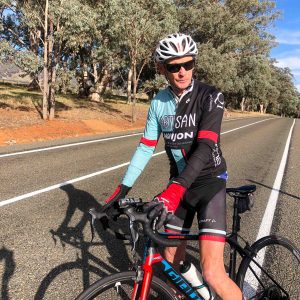 The full Strzelecki tour would be up with any tour in Europe.
Rod N- Strzelecki
The Trip
Strzelecki is split into three stages. Stage 1 begins and ends in New South Wales. Stage 2 begins on the border with NSW and continues through Victoria. Stage 3 begins in Melbourne and travels through Tasmania after a ferry journey from the mainland
Email me the Tour Overview
Book Now
Schedule a Call
Tour at a Glance
The Strzelecki Australia Tour
The Epic – Sydney to Hobart

Dates: 25th Feb – 22nd March 2023
Countries: Australia & Tasmania
Number of days: 26 days
Number of stages:  3
Price: AU $16,450
Grading:

Stage 1 – Sydney to Albury

Dates: 25th Feb – 7th Mar 2023
Number of days: 11 days
Price: AU $6,980
Grading:

Stage 2 – Albury/Wodonga to Melbourne

Dates: 6th – 14th March 2023
Number of days: 9 days
Price: AU $5,850
Grading:

Stage 3 – Melbourne to Hobart, TAS

Dates: 14th – 22nd March 2023
Number of days: 9 days
Price: AU $5,850
Grading:
.