Samurai Bike Tour Overview
The Samurai Tour travels through three distinct parts of Japan and immerses us in its spectacular history, culture and landscape. The Honshu Stage explores the enchanting Noto Peninsula and the Japanese Alps. The Shikoku Stage takes us across the smallest of Japan's main islands to truly discover the road less travelled. The Mt Fuji Stage travels across Japan through the Alps, around Mt Fuji, to the shores of the Pacific.
Our routes follow ancient and meandering roads, which tend to be smooth, narrow and with very little traffic. The Honshu (the main island) stages offer a smorgasbord of culture and history, from castles and classic gardens to landscapes and towns left mostly unchanged for over 400 years. The Noto & Izu peninsulas evoke the ancient Samurai warriors of days gone by. The Japanese Alps, with its heavy winter snowfalls, prevented some villages from modernising are frozen in time. These living ancient villages are now UNESCO protected and allow us to see how life was lived for hundreds of years and the architecture that made life in such a challenging environment not only possible but highly productive and comfortable.
Kyoto, famous for its temples and garden, is where we spend our rest day between the Honshu and Shikoku Tour. On the Shikoku Island stage, we will cycle through the magnificent Iya Gorge and tackle Mt Ishizuchi, Western Japan's highest peak at 1982m (6503ft). Enjoy thrilling descents, pass terraced rice paddies, traditional thatched-roof houses, and ancient villages clinging to the mountainsides.
The tour culminates with the spectacular Shimanami Kaido, a series of suspension bridges that connect small islands, offering stunning views of the inland sea and linking Shikoku back to Honshu.
Shikoku is also famous for its pilgrimage of the 88 temples associated with the Buddhist priest Kuka, known as Kobo-Daishi. Modern-day pilgrims, called 'Henro' by the locals, still tackle the 1200-kilometre route, many of them sporting traditional white clothing, sedge hats and kongō-zue walking sticks.
Throughout the tour, you'll stay in a mix of Western-style hotels and traditional Japanese Inns, known as Ryokans. These mountain inns may be different from what you're used to, with rice-straw mat floors and futon beds, but their charm and authenticity are unparalleled. Most of them also have natural hot spring baths, perfect for relaxing your muscles after a day of exhilarating cycling.
Our Favourites Album
Team Members on this Tour
Samurai Bike Tour Highlights
>Explore the ancient Samurai roads and learn about this fascinating period in history.
>Indulge yourself in the natural hot springs offered by most of our accommodations.
> Discover the unique tastes of Japanese cuisine that are distinct and varied across the islands.
> Experience the delights of Japanese style inns that offer a very different hotel experience to what you might be used to.

Mt Fuji Stage
>Ride across Japan from North to South, exploring historic landmarks like the Black Crow Castle in Matsumoto, Japan's oldest original castle.
>Cycle around Mt. Fuji, experiencing incredible views of this iconic Japanese mountain from the Fuji 5 Lakes, with the option of riding up the volcano.
>Explore the Izu Peninsula, passing through fishing villages and onsen towns, with Mt. Fuji visible from the shores of the Pacific Ocean.
>Ride past the site where the famous American Black Ships landed, a catalyst for ending feudalism and starting Japan's rapid modernization during the samurai era.
>Experience diverse landscapes and cultural highlights throughout the Alps that have sheltered much of Japan's ancient history, on this epic cycling tour across Japan.

Honshu Stage
> Visit the enchanting alpine village of Shirakawago that has attained UNESCO status for its multi-story 17th century steep grass-thatched farmhouses.
> Wander through the Wajima morning markets which have been operating for over a 1000 years.
> Discover the ancient art of cormorant fishing on the Nagaragawa River in Gifu City.
> Visit the once private feudal Kenrokuen gardens, one of the most beautiful in Japan and take in the splendour of Kanazawa Castle.
>Cycle through the stunning coastal scenery and quaint fishing villages of the Noto Peninsula.

Shikoku Stage
> Share your route with pilgrims travelling in homage to the Buddhist saint, Kobo Daishi and visit some of the 88 temples that make up this 1,200-year-old pilgrimage.
> Climb over the highest mountain in Western Japan – Mt Ishizuchi (1982m I 6502ft)
> Cycle along Japan's last pure waterway, the stunning crystal clear Shimanto River.
> Traverse the amazing 60km+ long Shimanami Kaido bikeway, a series of suspension bridges and six small islands that link Shikoku with the main island, Honshu.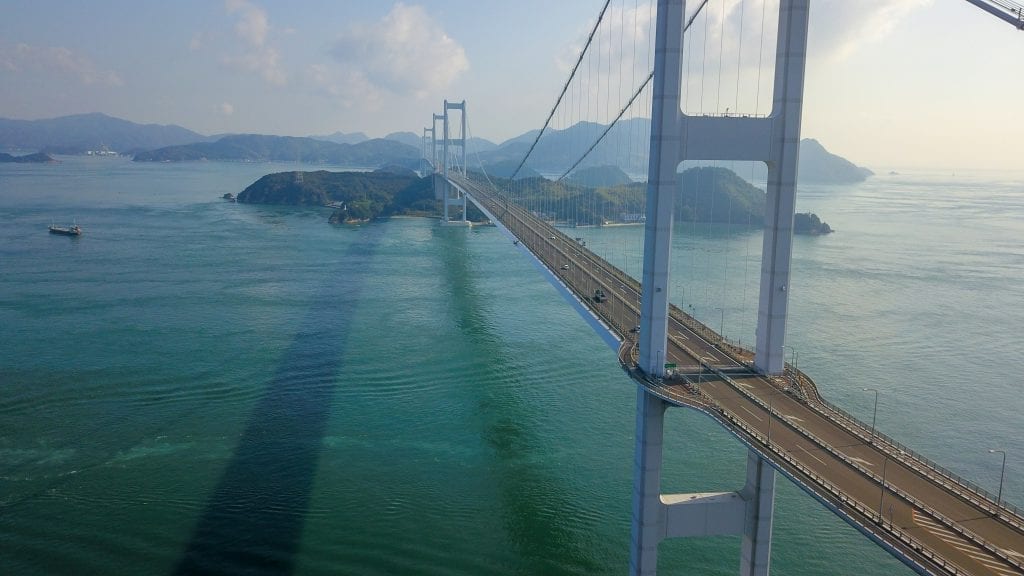 Samurai Bike Tour Dates Spring 2024
| Stage | Start Date | End Date | Days | Cost (Euros) |
| --- | --- | --- | --- | --- |
| Samurai Honshu Stage – Noto Peninsula & the Alps | 7th May | 17th May | 11 (10 nights) | €6,400 |
| Samurai Shikoku Island Stage | 18th May | 28th May | 11 (10 nights) | €6,400 |
| Samurai – The Epic (Honshu & Shikoku) | 7th May | 28th May | 22 (21 nights) | €12,600 |
Samurai Bike Tour Dates Fall 2024
| Stage | Start Date | End Date | Days | Cost (Euros) |
| --- | --- | --- | --- | --- |
| Samurai Bonus Stage – Mt Fuji Across Japan | 20th Sept | 4th Oct | 15 (14 nights) | €8,750 |
| Samurai Honshu Stage – Noto Peninsula & the Alps | 7th Oct | 17th Oct | 11 (10 nights) | €6,400 |
| Samurai Shikoku Island Stage | 18th Oct | 28th Oct | 11 (10 nights) | €6,400 |
| Samurai – The Epic (Honshu & Shikoku) | 7th Oct | 28th Oct | 22 (21 nights) | €12,600 |
All tours and individual stages are available as a custom tour for your group – contact us for details.
What's Included?
Accommodation in our carefully selected hotels
Meals – hotel breakfasts, snacks en route and pre/post-ride nutrition, multi course group dinners with a focus on the local cuisine.*NB we include occasional independent dinners to break up the week
Ride and Seek jersey
Garmin 1030 use with all routes preloaded
Ride and Seek water bottle
Kit laundry service once a week
Passionate, experienced and knowledgeable guides always on hand to help
Not Included
Alcoholic beverages
Bike hire
Pre & post tour accommodation
Supplements
Single supplement – Our prices are based on twin/double occupancy. If you wish to have your own room then a supplement is applicable.
Deposit
To reserve a place on a stage of this tour we ask for a deposit of €1000 (or your local currency equivalent). We also accept payment in GB£ and AU$. The final invoice will include any applicable single supplements and bike hire costs.
Useful Information
Climate – The end of September and October is known as the calm period in Japan after the mid-year storms. Average temperatures in Shikoku during October are 19°C (high is 24°C and low 13°C). Average rain days in October are 8 which is lower than the preceding 5 months. Central Japan shares its latitude with Morocco, southern California and the Mediterranean, about 200km south of Sicily, which provides a useful point of geographical reference.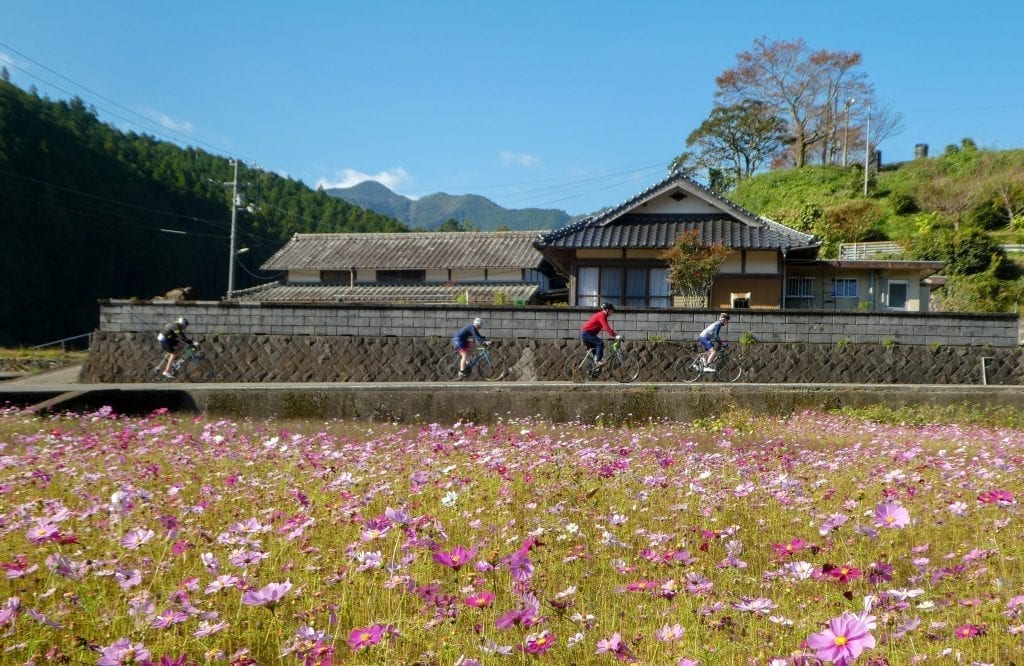 Samurai Bike Tour Food and Wine
Wherever we travel in Japan we are never far from another great meal. Each region, sometimes even each restaurant specialise in a particular dish having spent generations perfecting it. Many of our meals are as much a cultural experience as they are a culinary one, with multiple courses, each carefully created into a piece of edible art.
On both islands, we don't have to travel far to discover that Japanese cuisine is deeply varied. The hearty hotpots and grilled freshwater fish of the alps and the mountains of Shikoku dramatically differ from the varied and abundant seafood with its fresh delicate sushi of the Noto Peninsula. It's also intensely seasonal, meaning you can visit in spring and again in fall and experience totally new tastes.
The name "Shikoku" means "four provinces", which refers to the island's four prefectures—Kagawa, Tokushima, Kochi, and Ehime. The mountains created natural barriers that separated the four provinces, keeping them fairly isolated from each other. This allowed each area to develop its own unique food culture.
The Kagawa province, in the North East of the Island, is famous for its Udon noodles, made from the locally-produced flour, and recognisable from its square shape and flat edges. You'll see these on menus as Sanuki Udon, because the Kagawa prefecture was previously called Sanuki Province.
Tokushima ramen, comes in different shades of dark brown, yellow and white, depending on whether pork, chicken or vegetable broth is used, and whether dark or light soy sauce is used. It is topped with slices of pork ribs, spring onions, and a raw egg that cooks in the hot soup.
Katsuo Tataki is a very popular dish. Fresh Skipjack/Bonito tuna is seared on the outside on a straw fire, then thinly sliced, garnished with ginger, and eaten like sashimi. This is a Shikoku method, and folklore has it that the technique was developed by Sakamoto Ryoma, a 19th century Samurai.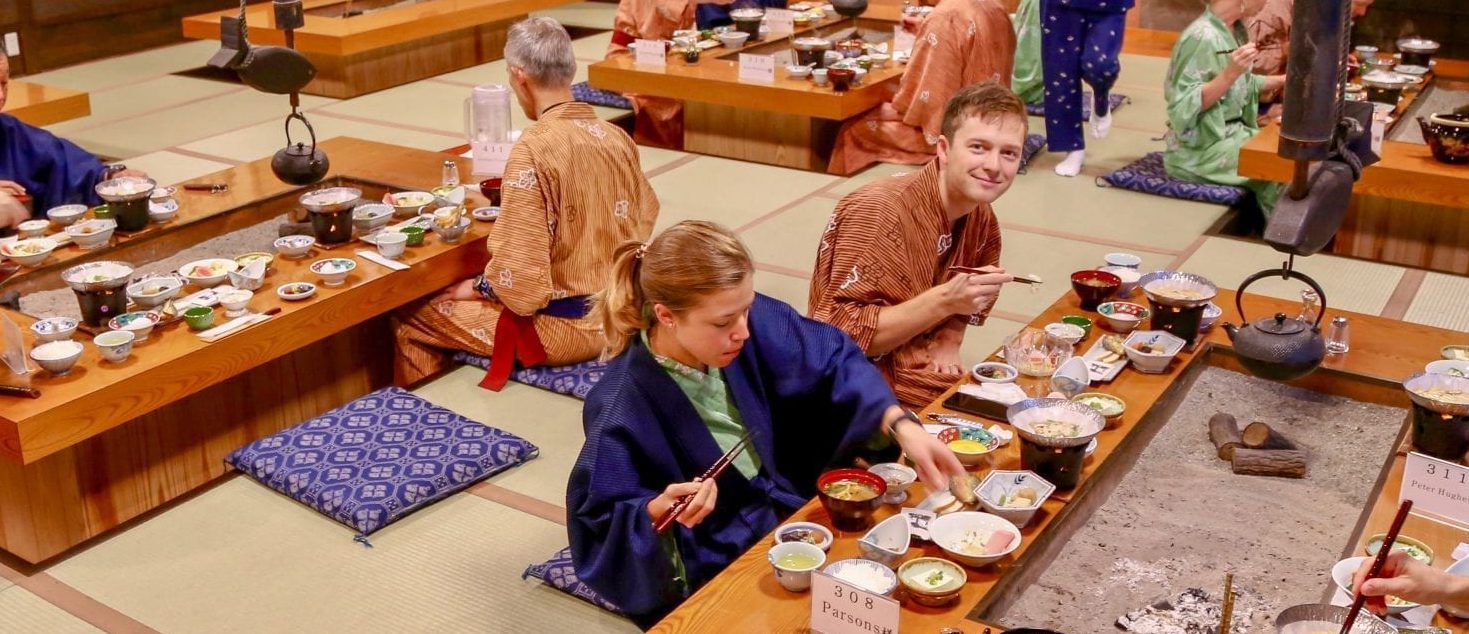 In the Ehime region red snapper ('Tai') is caught in the Seto Inland Sea, and incorporated into the popular local dish Tai Meshi, where cooked rice is topped with red snapper sashimi that has been dipped in raw egg yolk mixed with a sweetened sauce.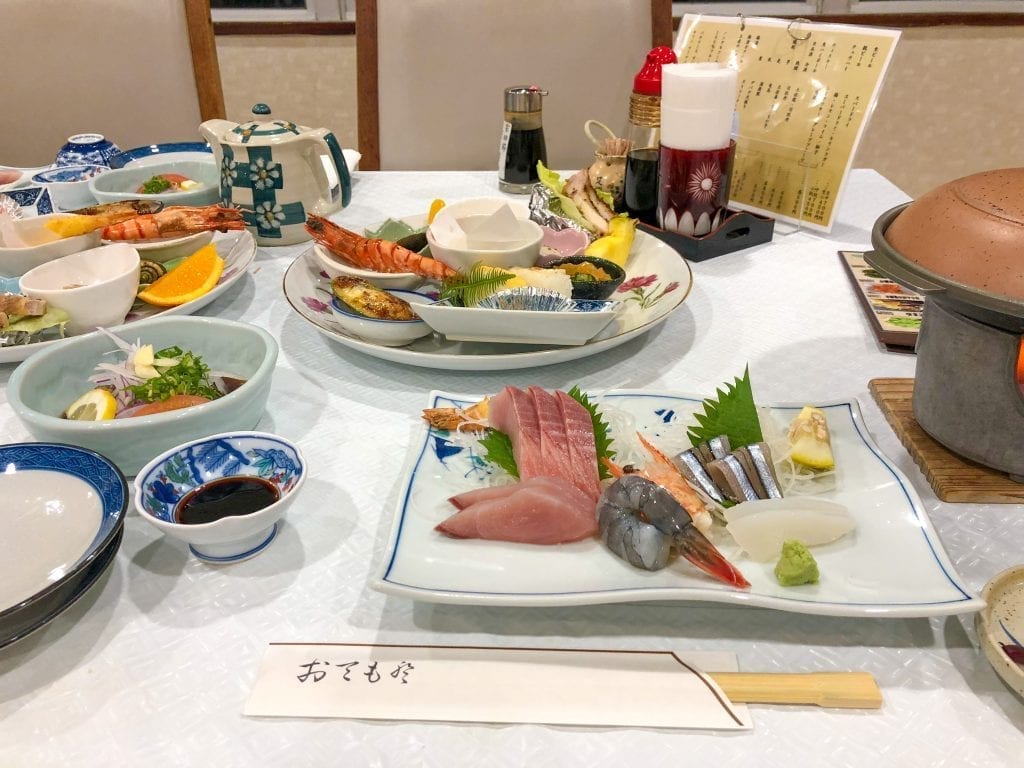 Because of the warm climate on Shikoku citrus fruits are able to thrive, with mandarins being one of the most successful local crops. They are mainly grown in rows on terraced slopes. Yuzu (with a flavour between grapefruit and lime) is also particularly abundant, and we will see all kinds of yuzu products from fresh yuzu juice to yuzu flavoured nuts.
While there has been increased interest in reviving wine-making in Japan, we will discover other more traditional options on our trip that shouldn't be ignored. There are over ninety sake breweries across the four provinces, each with their own style, and with many small family-run breweries thriving. Each region of Shikoku has both a mountainous interior and a coastal area, so there are breweries producing richer sake to match the mountain-style food such as game and root vegetable, and others creating a lighter sake to complement the seafood available along the coast.
Beer has been produced in Japan since the 19th century, and there are breweries on Shikoku itself. Aside from the large Asahi brewery, there are also smaller producers, which are often an off-shoot of a sake brewery. As you can imagine many of these beers are a perfect complement to the local food!
Samurai Bike Tour Accommodation
We present a range of accommodation options across this tour, but without doubt, our favourite abodes are the Japanese inns. As with all of our tours we have searched out places that are not only 'best available', but also reflect the essence of the area in which we travel. The inns are a wonderful way to immerse yourself in the culture of Japan with their straw mat floors and futon beds. Many of them also offer baths in natural hot springs to soothe those aching muscles at the end of a day on the bike. The traditional cuisine served up in these inns is also a real highlight. Our Samurai tour has a good mix of traditional inns and more western orientated hotels.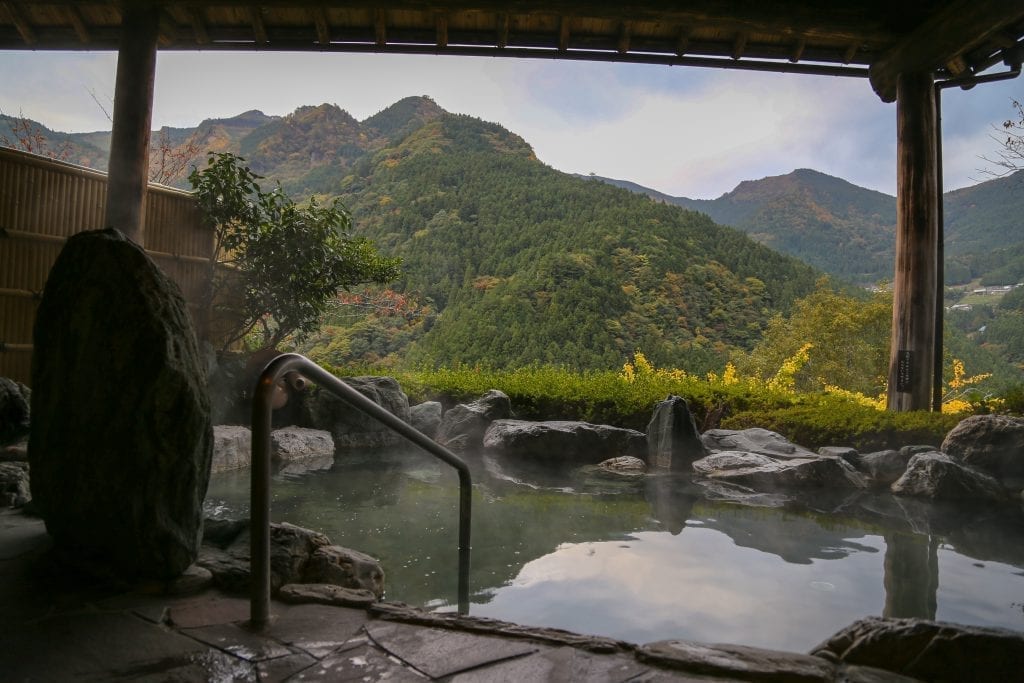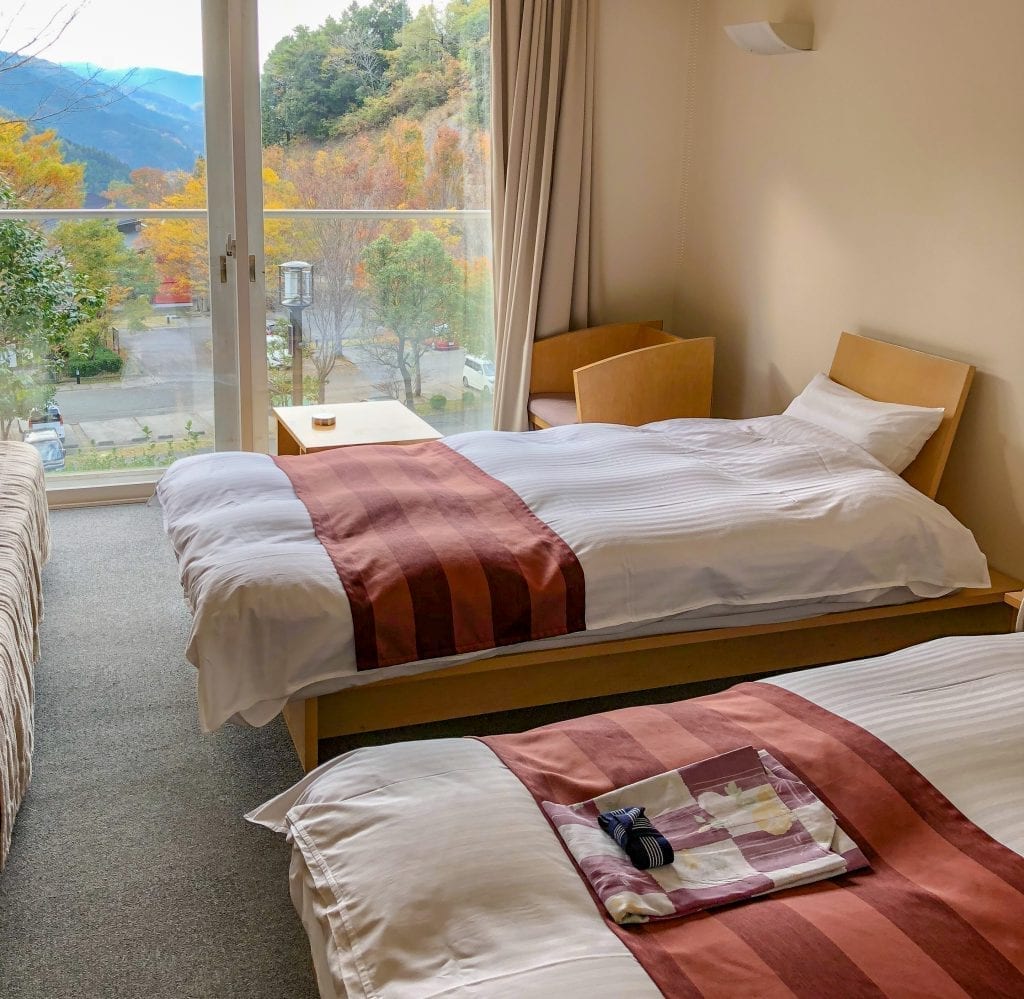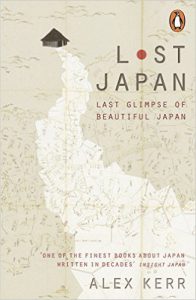 Lost Japan (Alex Kerr) – An enchanting and fascinating insight into Japanese landscape, culture, history and future. Alex Kerr is an American writer who has lived in Japan for over 30 years. This book is an ode to the journey he has experienced from Japanese boardrooms to the hidden valley he now calls home. In part a lament to the loss of the Japan of old, it is still a wonderful celebration of a culture he clearly reveres. Winner of the Shincho Gakugei Literature Prize in 1994, Kerr was the first foreigner to win this prize. We recommend this book as a wonderful way to get an insight into Japanese culture both contemporary and that of the past.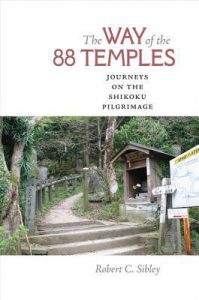 The Way of the 88 Temples: Journeys on the Shikoku Pilgrimage (Robert C. Sibley) – A wonderful account of the author's travels on the Shikoku pilgrimage. The Henro Michi is one of the oldest and most famous pilgrimage routes in Japan and consists of a circuit of 88 temples on Shikoku. Sibley does a great job of exploring the customs, etiquette and natural surroundings that make this pilgrimage such an amazing experience. The way in which the author incorporates the stories of his fellow pilgrims into the narrative is really well done and adds another level of interest. We will visit a number of these temples on our tour.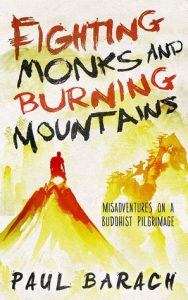 Fighting Monks and Burning Mountains (Paul Barach) – A more lighthearted look at the joys of the Shikoku pilgrimage, Barach presents a humorous account of his experience on his 750km trail. Told with a nice mix of humility and charm he charts his journey from underprepared office worker to hardened pilgrim! Fighting Monks and Burning Mountains is a funny and engaging memoir about the consequences of impulsive decisions, and the things you can discover while you're looking for something else.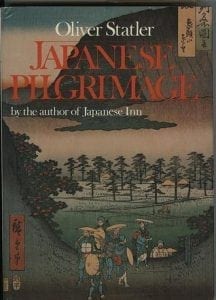 Japanese Pilgrimage (Oliver Statler) – An account of walking the Shikoku Pilgrimage, a thousand-mile trek around this fascinating island following the path of the ancient Buddhist master Kūkai (Kōbō Daishi). It is a fascinating story of a spiritual journey that shows the many sides of Japan.
Samurai Bike Tour History
Our tour explores many of Japan's historically important regions. Our rest day allows us to discover the 1200-year-old imperial city of Kyoto. The Honshu Tour begins in Kanazawa, spared from destruction during World War II it remains one of the best-preserved castle towns and one of the only cities in Japan to still have a samurai district. Shikoku Island was known as a refuge for defeated samurai, with its wild mountainous centre and steep rivers enough to slow any large pursuing army. Masterless and with only small gains to be found in banditry on such a remote island many swapped their swords for ploughs and lived as farmers. Their descendants still work the rice paddies in the remote valleys we ride through today.
Shikoku is also famous for its pilgrimage of the 88-temples, scattered across the island associated with the Buddhist priest Kuka, known posthumously as Kobo-Daishi who lived from 774 to 835AD. Modern-day pilgrims, called 'Henro' by the locals, still tackle the 1200km route, many of them sporting the traditional white clothing, sedge hats and kongō-zue walking sticks and sharing some of their route with ours. 
Japan has a long and fascinating history. The Yamato dynasty (Japanese Imperial Family) is the longest unbroken monarchy in the world, dating back to 660AD. Their linear family history belies the complexity of the county's history which began to bear similarities with Japanese culture around 400AD when people began practising wet rice cultivation and using metal tools which promoted a sense of territoriality.
Buddhism and the Chinese writing system arrived a century later. The now literate elite used religion as a unifying tool and the writing system to consolidate power through taxes, regulate land distribution, create official ranks and document family lineages to justify their right to rule. 
The first strong central government developed in the 8th century and the imperial capital of Kyoto was founded in 794AD. Over the next few centuries courtly life reached a pinnacle of refined artistic pursuits and etiquette, turning out enduring art, poetry, and prose – most famously perhaps the world's first novel 'The Tale of Genji' written by a lady of the court in around 1,004AD. The samurai (literally 'retainer') warrior class developed during this time as a means for the nobility to control, defend and tax their distant provinces. 
Servent became dictator when after many decades of war between the two largest rival clans, the Minamoto and the Taira who were aligned with the emperor came to an end. Yoritomo, the leader of the victorious Minamoto clan, did not make himself emperor but had the emperor give him legitimacy by conferring him the title of Shogun (commander of all combined military forces) in 1192AD. So began the almost 700 years of Shogunate rule, a feudal system centred on a loyalty-based lord-vassal system. 
He left many existing offices and institutions in place and set up a base in his home territory not far from present-day Tokyo. In theory, Yoritomo represented the military arm of the emperor's government, but in practice, he was in charge of the government. This change in power meant rule over Japan was no longer defined to one noble family but could be obtained by force and influence over the emperor. 
The following centuries were rife with war, but with land, power and thereby cultural sway moving to the Samurai a new disciplined culture developed under the growing influence of Zen Buddhism. Leading to a flourishing of the arts, such as the uniquely Japanese tea ceremony, flower arranging and stylised dance-drama performed on a bare stage. 
In the last three decades of the fifteen-hundreds', Japan was finally unified and so began 250 years of peace that prevailed under the Tokugawa Shogunate. Samurai were made a closed caste at the top of society, above farmers, artisans and merchants. Words like 'bushido' ("way of the warrior") came into parlance. Samurai arguing that they should be thought of as a moral beacon as they tried to justify their role in a land without war. This period is also known for its locked country policy, which didn't hinder the county's growing wealth nor the size of its cities. By the end of the 17th century Edo (later Tokyo) was one of the most populous and organised cities in the world with over one million inhabitants (the much older London had a population of about 600,000; Paris 500,000; and New York just 5,000).
Throughout this Epic Tour, we explore how the samurai's reign came to an end, why the emperor was needed to give legitimacy to their rule, what was the code of conduct that came to be known as bushidō (the way of the warrior) and how did they become the world's finest swordsmen. We also learn how Buddhism influenced their culture, how 'seppuku' (ritual suicide), also known as 'hara-kiri' became normalised and seen as honourable and how the belief that life is impermanent served as a handy reason to face death with serenity. The samurai may be gone, but their literature, arts, aesthetics and values still influence much of Japanese culture today.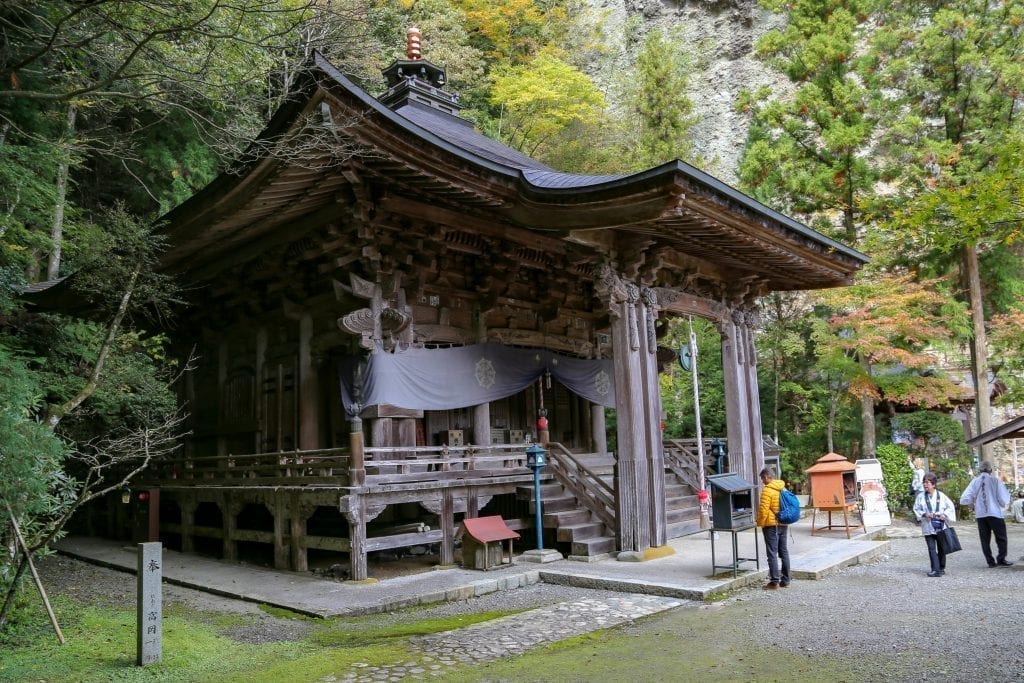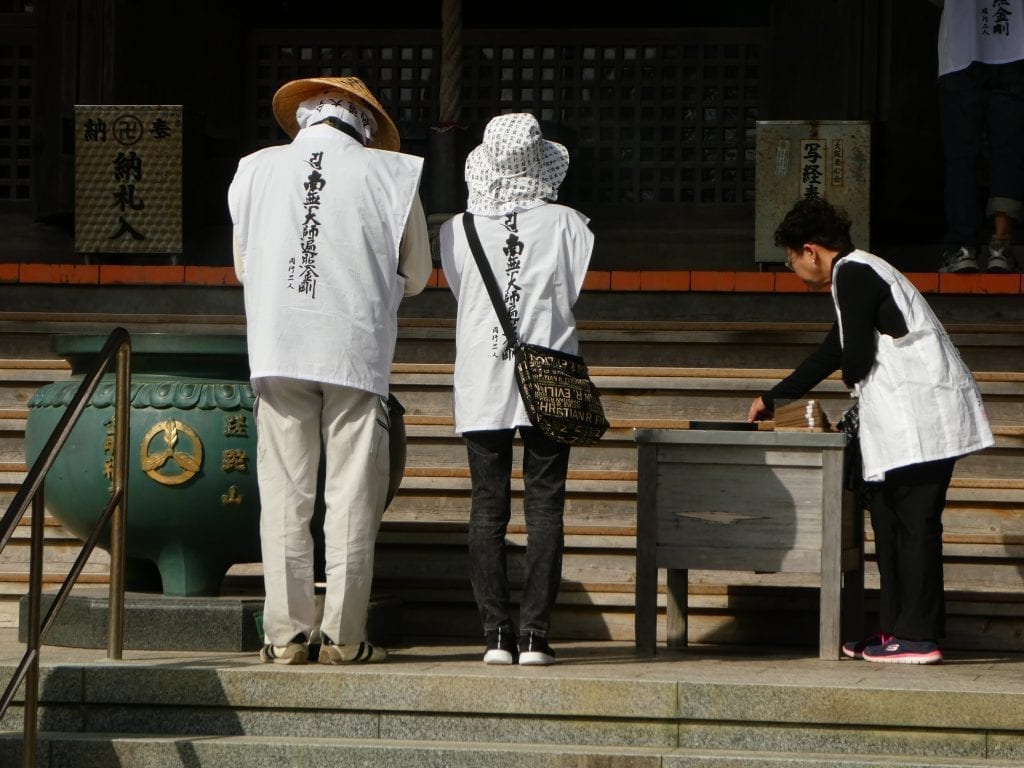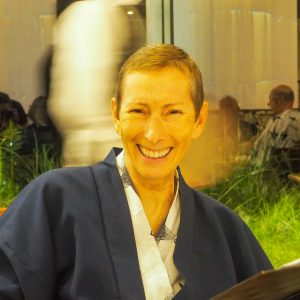 Bicycling on Shikoku was exhilarating. The combination of spectacular riding, out of the ordinary accommodations, wonderfully authentic, delicious and healthy food, and fascinating fellow riders was beyond compare. It was the team, however, that made the trip epic. I experienced Japan in a way that I never would on my own.
Betty V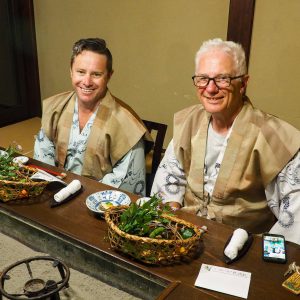 What a Great Experience: riding the countryside, coastline, mountains, bridges, cities and villages with a group of people who became friends during the three weeks of the Epic. The food and accommodation will never be forgotten, nor will the "can do" attitude of Ben, Remi and Ikki. If you get the chance to ride this one – DO IT!"
Chris and Brad P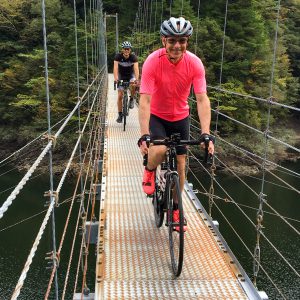 I expected the tour to be mostly a bike trip, but ended up experiencing so much more. I got all the riding I had wished for, but that ended up being only a quarter of the trip. So what made up the remaining 75%? The food experience was another 25%, learning and experiencing Japanese culture another 25% and the last 25% was being with a truly exceptional crew – both staff and guests. A wonderful Epic that I couldn't fault in any way, and would recommend 100%.
Andy L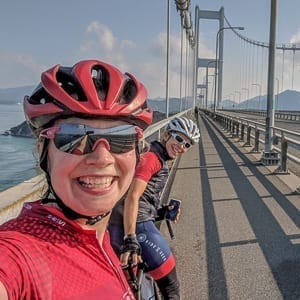 The Samurai tour was unlike any other riding – remote roads through bamboo forests and hillsides, past Buddhist temples and through small villages. The landscape, food, and culture made for a wonderfully unique trip that exceeded expectations. I highly recommend this trip. Thanks for another great tour!
Emily B – Samurai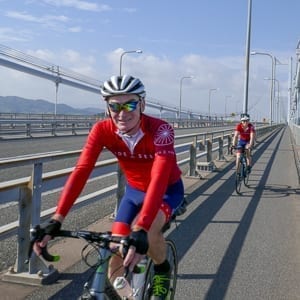 A fantastic experience and aside from the spectacular riding, this is a remote destination to a very different culture and that means embracing the differences and challenges with an open mind. Ride & Seek did a great job of making all that work and helping us communicate and appreciate what was on offer. The trip flowed beautifully and the navigation was so well prepared it felt much easier than expected.
Peter H – Samurai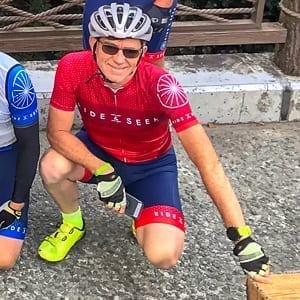 The Samurai tour allows riding through whisper quiet country roads to every cultural experience from traditional country inns to architectural marvels. The Onsen experience, initially a little daunting, becomes a daily highlight. The greatest joy, however, is the countryside itself – truly unique and wonderful.
Laurie T – Samurai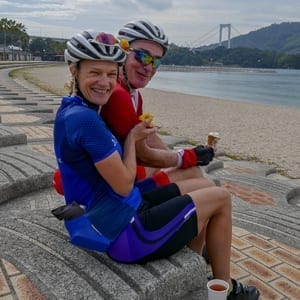 It was a fabulous trip and a wonderful way to experience Japan. Stunning riding and we were so well looked after by the team. They listened carefully when there was a problem and did their best to sort it out.
Vicky I – Samurai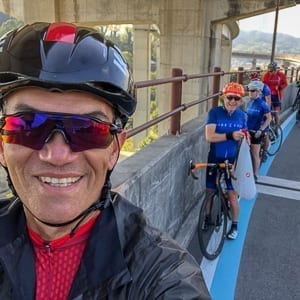 It was a privilege to join the inaugural Samurai tour with Ride and Seek! The riding was as good as I've experienced anywhere. We were immersed in pristine beauty, crystal clear rivers and a "back in time" look at rural Japan! I look forward to an expanded tour in the future of other parts of this amazing Island nation.
Jonathan F – Samurai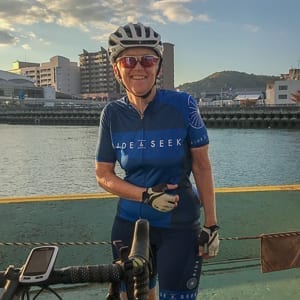 Exquisite remote riding in pristine surroundings, Samurai, Shinto and Buddhist history, you can't go wrong with this tour. In true Ride and Seek fashion, every detail accounted for, beautifully organized and run. They have done it again!  Thanks R&S for another remarkable experience. This is why I keep riding with you!
Christine C  – Samurai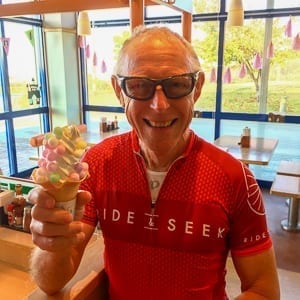 Beautiful countryside with the change of colour Autumn brings, back country roads through Iya Gorge, Yoshino river, over Mt Ishizuchi through remote Shikoku down to the Pacific Ocean before making our way back up to the Shimanto river then over the large suspension bridges that tie Shikoku to mainland Japan. A memorable trip.
Peter R – Samurai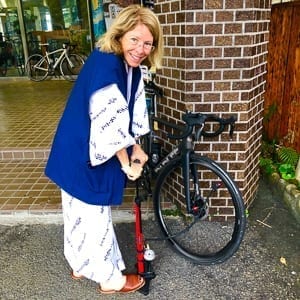 The Samurai Tour was one of my favourite tours of all time. The Japanese people are amazingly friendly, the accommodations surprisingly comfortable, the local food healthy, the hot springs healing, the roads, tunnels and bridges are engineering feats and immaculately maintained and our guides made it all seem easy. Ride and Seek did another terrific job. This tour was a taste of the real Japan, not a made up version.
Sarah R – Samurai
Tour at a Glance
Next Tour Dates
The Epic – Honshu & Shikoku


Dates: 7th – 28th May 2024
Countries: Japan
Number of days: 22 days
Number of stages:  2
Price:  €12,600
Grading:

Stage 1 – Honshu Island

Dates: 7th – 17th May 2024
Number of days: 11 days
Price: €6,400
Grading:

Stage 2 – Shikoku Island

Dates: 18th – 28th May 2024
Number of days: 11 days
Price: €6,400
Grading:
.